The moment has finally arrived. After months of waiting, Gears of War 5 is now officially available on Xbox One for Xbox Game pass members with access for everyone else on Xbox and PC coming within the next week. All of the hype has been built up and the finished product has hit the shelves. However, the main question that everyone is asking is, Should I buy the game? Is Gears 5 worth the money? Let's find out.
This review is spoiler-free and is not sponsored/endorsed by any company. These are all my personal opinions after playing the game.
The Boot Camp
The first time you boot up the game, you will be greeted with the task to complete the tutorial or the boot camp as it is officially known as. During Boot Camp, you are thought various different gameplay mechanics such as shooting, reloading, moving properly and melee mechanics. The tutorial was surprisingly informative. If Gears of War 5 is your first Gears game to play, the tutorial will explain everything you need to know about the game. My only complaint about the boot camp is the fact that it is quite lengthy, but it was bearable. Also, Dave is brilliant. Full stop.
The mechanics
During the tutorial and during my first hour of gameplay, I really started to appreciate the incredible mechanics that Gears of War have to offer. From the ground up, Gears is jam-packed with incredible mechanics. In fact, I think Gears of War 5 has some of the most enjoyable gameplay mechanics that I've ever witnessed in a video game. From the shooting to the chainsaws and jumping, everything feels perfect. To me, it seems as if the developers have spent years perfecting these gameplay mechanics, which is a true fact. Seriously though, I'm not even joking. I had a blast using the Gears mechanics. However, the sprinting in Gears made me feel motion sick.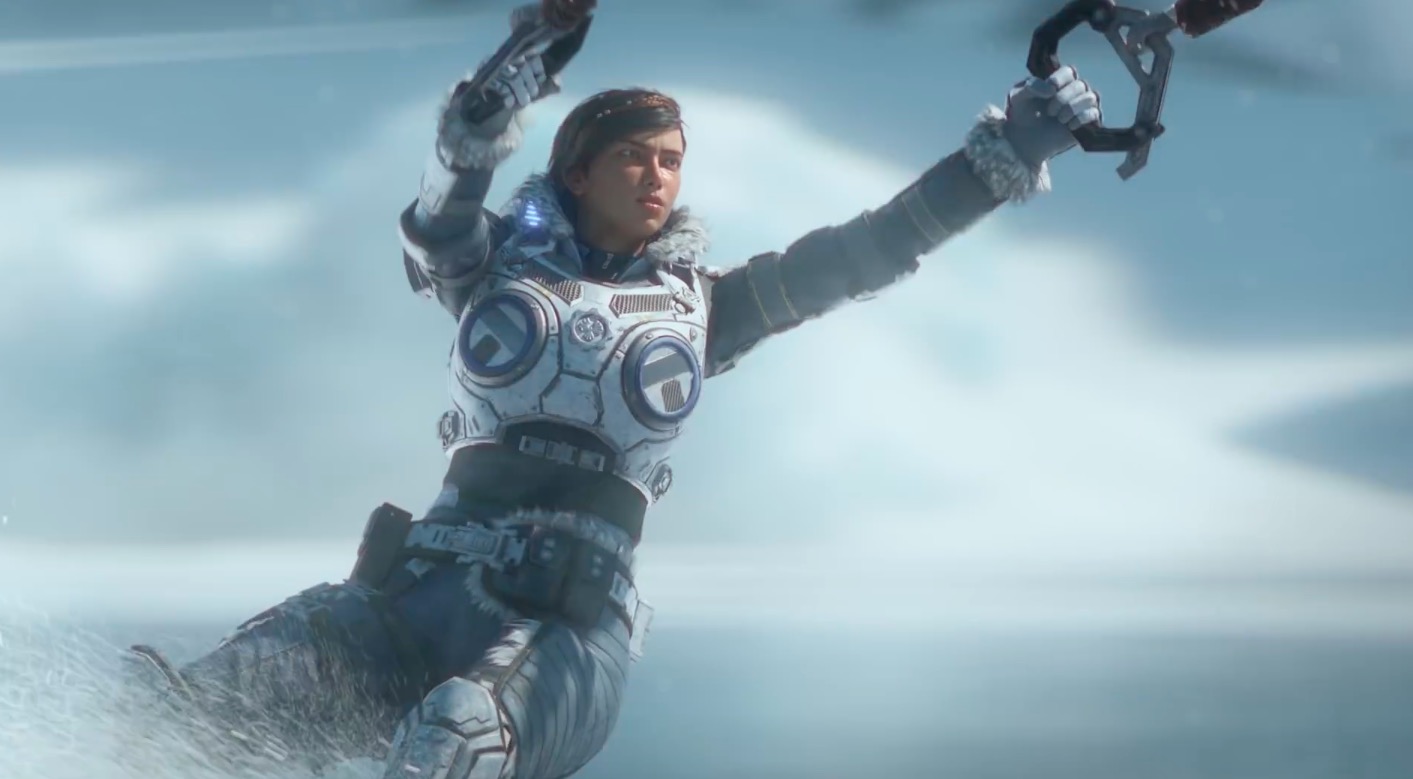 Graphics and environments
As usual, the graphics that come with Gears are just ridiculously good. While I was playing, I just couldn't help to notice how great they really are. The shading, textures and lighting are all done astonishingly well. Just like the graphics, most of the environments are also amazing. The biomes change weather often and are highly detailed. The worlds are also so much fun to play in as every time you play, you notice something different. I just can't praise The Coalition enough for their work on the visuals and environments.
Content filters
Another factor that I found useful was the advanced content filters. If you don't like gruesome content or hard swearing, you can easily filter it out in the settings. This will come in especially handy for parents/younger players. I tried the game with and without the gruesome filter, and everything is the exact same apart from the content.
Storylines
I'm going, to be honest, I haven't finished the storyline yet. However, so far so good. I'm currently about an hour and a half into the story and I have been enjoying it so far. The quests are good and the gunfights are intriguing. There are also a few plot twists thrown in there aswell. Gears 5 mainly focuses on Kait Diaz. As Kait, we must uncover the origins of the Locust and Kait's family. However, I can't really comment on the storyline until I finish the story. Once I do finish the campaign, I will do a separate review detailing my thoughts.
Characters
As always, the characters are so lovable in Gears of War. After so many games, every character in the game has their own voice and grows in some way or another during the storyline. A lot of the classic characters that we all know and love are also back including Kait Diaz, Del Walker, Jack and JD. My personal favourite character has changed multiple times even though I'm not even finished the storyline. Side note, I also feel really sorry for Kait!
Side Quests in Gears of War 5
With the new Gears game, comes a new side quest system. If you don't feel like progressing with the main storyline, you can take a side quest to pass some time. I've completed about three side quests and they aren't really my thing. In my opinion, they don't have enough purpose. I'm the kind of guy who wants to plough on with the story as fast as possible. I don't like sticking around. However, if you want to take it slow, Side Quests are a great addition to the game that will satisfy you. They just aren't my thing as I hate doing challenges and similar stuff in video games.
Upgrade System
In Gears 5, The Colation has adopted a brand new upgrade tree system. The original robot named Jack from the original trilogy is back with Gears 5 and plays a super important role. He can bring you ammo from far distances and can fight well with his combat and support skills, that you control. Jack, your handy sidekick robot, can be upgraded using a skill tree that you can explore. As you upgrade Jack, he becomes more useful to you. This is a system that I truly did enjoy. I love video games that get more rewarding as you play for longer as it gives you a reason to grind. The Upgrade system is probably one of my favourite systems in Gears 5.
Open-World
The open-world system is, weird yet interesting. At first, I didn't really think about it much and I was thinking that it wouldn't affect my gameplay in any way. However, it really did. The open-world system allows you to control the pace of the storyline, which is nice. Not a lot of other video games allow you to control the pace. The open-world system also adds a lot of graphical pleasure to the game. Although others are criticising it, I quite enjoyed the open world aspect in Gears.
In conclusion, Gears of War 5 is an utterly stunning piece of work. It combines everything we know and love about Gears with upgraded graphics and mechanics. Although the price tag is high, in my opinion it is worth it as the value you get is very high.
---
[cn-social-icon]
---
If you are enjoying the content, consider donating! It helps us a lot. See the side panel for more information. You can contact us if you need support here. If you would like to follow us on Twitter, you can do so by clicking here.