Today it has been announced by StreamElements that Mixer has lost even more of the hours watched per platform percentage as Twitch continues to grow despite all of the bad stuff that has been happening recently on the platform. In Quarter three, Twitch now owns 75.6% of the hours watched per platform, while Mixer owns a mere 3.2%.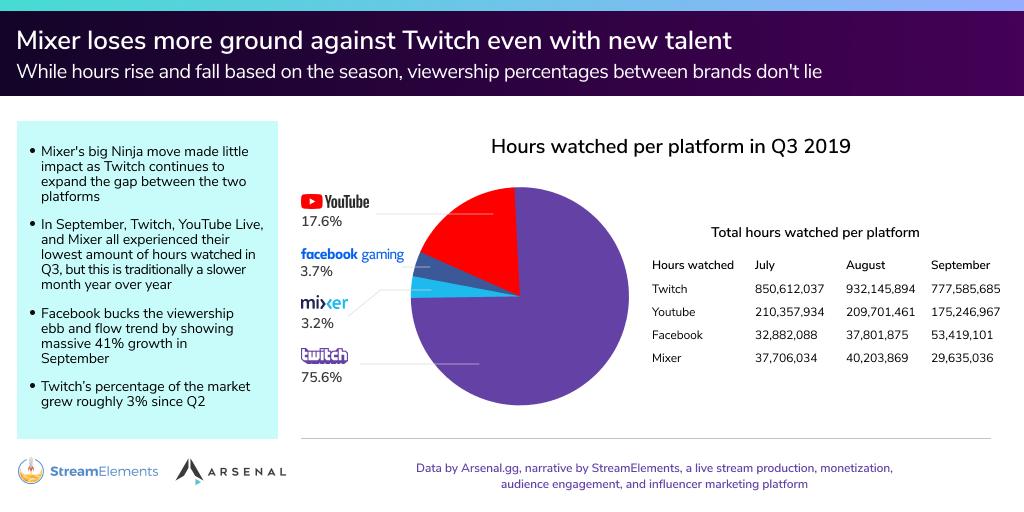 Back in August of this year, the gaming world was shocked to hear the news of the biggest Twitch streamer named Ninja leaving the platform for it's competitor named Mixer. Experts warned that this could have devastating effects for Twitch and that numbers could begin to decline. However, they have all been proved wrong today after it has been shown that Twitch has had a 3% increase in hours watched since Quarter two. His move to the platform made little to no impact on the streaming industry.
In fact, even YouTube and Facebook gaming have managed to out perform Mixer last month. In September, Mixer only had 30 million hours watched on it's platform, while Youtube Gaming had 175 million and Facebook Gaming had 53 million. However, this month has been a good month for Facebook Gaming. The brand new gaming platform shocked experts during September with a dramatic 41% growth in September.
Despite the growing numbers, September was still the slowest month for every platform during quarter 3, but that is normal due to back to school.
It is incredibly interesting to me that a platform that has had so much hype this quarter hasn't managed to take even some of that percentage away from Twitch. Maybe next time?
---
Follow Treyex on social media:
[cn-social-icon]
If you are enjoying the content, consider donating! It helps us a lot. See the side panel for more information. You can contact us if you need support here.
---